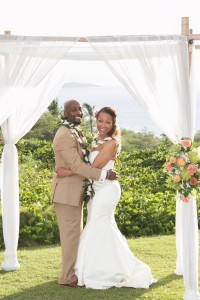 Sonya and George carefully planned their Maui wedding for many months. Their dedication and careful work resulted in a gorgeous wedding on the beautiful Gannon estate, overlooking Wailea Bay.
George and Sonya chose a bamboo Chuppa, decorated with chiffon drapery and sumptuous tropical flower arrangements, with matching bouquets. The sky was bright and clear, shining down on a gathering of Sonya and George's family and friends, and upon the radiant bride and handsome groom.  They all gathered  and were so happy to celebrate.
The wedding party had an amazing photo session conducted by Cathy Simone, with two guests photographers assisting her and they had the very talented Craig Gomberg on video. Everyone looked very beautiful.
Then everyone was transported in style to the elegant beach front Five Palms restaurant for a celebratory reception and dinner.