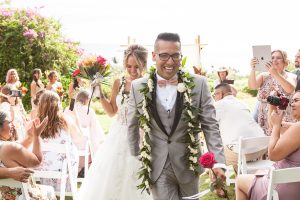 Nicole and David planned their beautiful Maui wedding many months in advance with much love and attention to detail. They had so many wonderful ideas, which I was happy to help them with.
They chose Gannons Wedding Knoll for their ceremony and pre-wedding activities.
Nicole and her girls had so much fun getting dressed and fabulous looking in the spacious dressing rooms.
David and his groomsmen were very handsome as they waited for the glittering and beautiful ladies to arrive.
Desiree Maher was on hand for all of the festivities to capture amazing day in all of its glory.