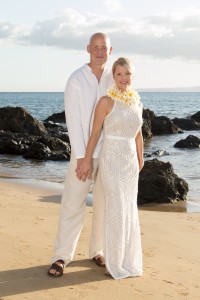 Michelle and Jeff traveled to Maui with six of their close friends, to celebrate their wedding on our lovely South Shore. The bride and groom and guests were blessed with perfect weather and a gorgeous beach cove, all to themselves.
Everyone looked very beautiful, especially the bride and groom, who were perfectly attired for a beach wedding. They looked as if they had stepped from the cover of a wedding magazine. Michelle and Jeff were ardently romantic, as they exchanged their vows in a sweet ceremony. Afterwards, they enjoyed their photos, taken by Cathy Simone, with their friends in humor and joy.
Congratulations Jeff and Michelle, you were wonderful to work with and come back to Maui soon!