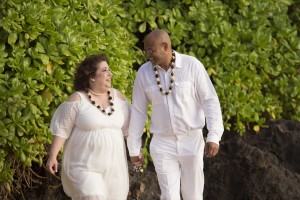 Doug, a very romantic man, asked me to book a wedding date and said,"I hope she says yes!"
"You haven't asked her yet?" I ask and said he was going to propose on the Sunday before the Monday wedding date, while they were on Maui.
She said yes, and they enjoyed a most romantic sunset beach wedding on Aloha Beach. At Doug's request, Kai Akin came along to serenade them with his Hawaiian ukulele and soulful love songs, while the happy couple danced in the sand.
All was well for Lisa and Doug on their Maui honeymoon and Merry Maui Wedding.