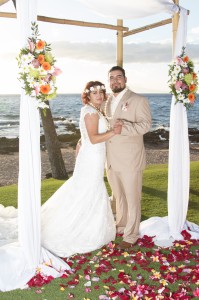 Ulises and Anabel lovingly planned their Maui wedding for many months, while living in Washington. They had beautiful ideas for what they wanted and it was our job to bring together a team to accomplish their dream.
We chose together, the elegant Five Palms beach lawn, over looking beautiful Keawakapu Beach, one of Maui's most favored beaches. Anabel selected a lovely bamboo chuppa, decorated with chiffon drapes and luscious tropical flowers, arranged by Addie Browne and provided by Kahului Florist. Anabel and her beautiful bridesmaids, all in pink and orange traversed a festive path of fragrant plumeria blossoms and rose petals to reach the handsome groom, and their guests, all waiting in happy anticipation for the gorgeous radiant bride.
A most romantic wedding ceremony, heralded by the traditional conch blowing of Kai Akin, and then his spell-binding ukulele and voice, gave much joy to all present. It was a fitting beginning for the marriage of Anabel and Ulises.
Wine and Hawaiian appetizers were served on the lawn to all the guests as they participated in photography by Cathy Simone. Then everyone enjoyed a sumptuous dinner in the open-air Five Palms restaurant, overlooking the waves of Wailea.
It was a beautiful dream come true of a wedding and reception.