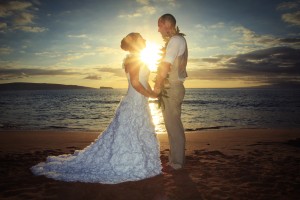 People often ask me, when is the best time to have a Maui beach wedding. I always say "sunset".
The reason I recommend sunset as the best time for a romantic wedding, is that:
1  The lighting is beautiful., and optimal for wedding photography. We start with full sunlight and then take romance pictures, as the sun is going down, filling the sky with radiant beams and colors. The lighting is more even, shadows and overly bright light diminish
2  The beach is more private. Most visitors and locals leave the beach, before sunset, to go to their residences and dinner.
3 As the sun goes lower, the temperatures become comfortably lower and  brides, grooms and guests will feel more comfortable in their wedding finery.
Because sunset is such a desirable time for a Maui wedding, many companies charge more for this time but Merry Maui Weddings does not. We have a commitment to providing the best for a low cost. You will have more money to spend on a romantic beach front dinner close by. We can recommend and even make reservations for you, at a variety of delightful restaurants, where an eloping couple or a party of 100 can enjoy a celeb-rational meal, drinks and dancing.
Please give us a call, toll-free at 888-588-0400.  Aloha