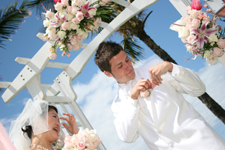 Yoki & Jeremy's March 2006 Maui wedding was a true multicultural celebration. It was also a real challenge for us, as wedding planners, and ended with a shocking, unplanned (by us, anyway) finale.
Yoki and Jeremy met while he was attending school in Japan. Their relationship had the opportunity to grow, when he procured a job as an English instructor. Despite many cultural differences, this young Japanese woman and California student fell deeply in love.
Jeremy was expected, by Japanese tradition, to ask her family for permission to seriously date her. He complied, but mixed up his idioms and ended up asking permission to: (a rude word for intimate relations). Somehow, he received permission anyway, after the misunderstanding was cleared up.
After three years of serious courtship, sometimes interrupted by Jeremy's trips back home to the U.S., the couple realized that they were made for each other. They selected Maui for their wedding because it is nearly equidistant from California and Japan. Also, they love Maui and, finally, Jeremy's family includes us – the owners of Merry Maui Weddings.
This wedding was our biggest challenge to date for two reasons. Yoki's traditional Japanese family and Jeremy's casual, eclectic California/Hawaiian families were very, very different. And, this was our first wedding for our own family.
As you might know, pleasing family can be a lot more difficult than pleasing unrelated clients. Blessedly, the wedding was beautiful and close to perfect as such an event could be. It was held on a beautiful coconut palm studded lawn next to a South Maui beach, and in front of a condo complex in Kihei, where many of the off-island guests stayed.
The flowers, arch and wedding attire were traditionally western in style. The bride wore a dazzling neo-Victorian dress and veil and the groom a handsome white tuxedo. The bridesmaids and groomsmen were also beautiful, attired in the wedding colors, pink and white. The grooms' family was dressed in their "Sunday best," or dress Aloha wear. The bride's family were easy to identify as they wore a matching Japanese print.
The wedding ceremony, performed by myself, was customized by the bride and groom to reflect their own beliefs. It was touching and often hilarious (as they are). I have never witnessed so much laughter at a wedding before! After the wedding kiss, in true Hawaiian style, my sons performed the Hawaiian Wedding Song and I danced the hula.
The pink and white reception featuring Hawaiian luau-style food was appreciated by all. Everyone was pleased and commenting at how smoothly and beautifully the wedding/reception had gone when something unexpected happened. Suddenly, Yoki's father and uncle picked Yoki up and threw her, fully attired in veil, gown and heels, over a tall fence and into the swimming pool with an above ground pool pump! Family and friends were aghast and there is still speculation as to the meaning of this act.
Fortunately, Yoki cleared the cement and survived this wedding surprise with grace and humor and everyone enjoyed the rest of the evening. I do wish the bride's family had chosen a less shocking way to show their love, such as the father dancing with his daughter or the uncle tying some cans to the groom's car. But, I suppose we must respect cultural differences. All in all, it was a Merry Maui Wedding.