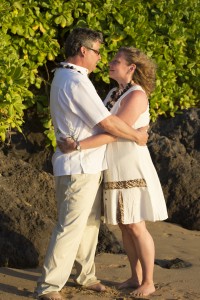 Perry and Tracy dreamed and planned their Maui Beach wedding for some time and then finally the day arrived and a lovely day it was! Tracy's parents came along to witness their daughter's wedding and all were impressed by the beautiful Aloha Beach Cove.
Rev. Ayesha Sandra Lee performed the wedding ceremony and Anthony Simone of Maui Imprint Photography took photos of the loving couple and new happy family.
Tracy and Perry and family needed to return to their home in Canada, but I am sure they took a little bit of Maui back with them and will return before too long, perhaps to celebrate an anniversary.