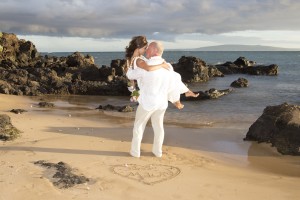 Nohora and Rick were a most romantic and happy couple, and so pleased to celebrate their wedding on Aloha Beach. We were blessed with beautiful weather and golden light for the celebration.
Nohora had been a very inspired and thoughtful bride, communicating clearly to me the things that were important to her in a considerate manner. This communication helped us to create the wedding of Nohora and Rick's dreams, which is always our great desire.
My team came through mightily for Nohora and Rick's wedding. Gabriel Furumoto sang and played ukulele sweetly, for the lovers and played for their first dance on the beach. Cathy Simone of Maui Imprints Photography captured their photos lovingly and with skill.
It was a most lovely sunset wedding, and a beautiful way for Rick and Nohora to begin their marriage. They deserve every good thing that they are blessed with!
Nohora and Rick blessed us with lovely reviews, which totally gladdened all our hearts, for we aim to please.
Right from the start Ayesha's communication was far above the other wedding coordinators I was considering, her responses afterwards remained timely and thorough. By the time we arrived in Maui I was confident that everything was on track, a big relief.
Ayesha was also the minister who performed our ceremony and we couldn't have been more pleased! The wedding was meaningful and yet fun. She spoke a blessing over us that was very touching and well received.
In addition Ayesha recommended Cathy Simone (Maui Imprints Photography) as our photographer…she too was amazing and wonderful to work with.
Thank you from the bottom of our heart,
Rick & Nohora