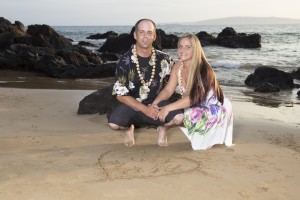 Angela and Matthew waited for many years to tie the knot. It had to be very special so they chose Maui for their beach wedding and Merry Maui Weddings to facilitate it. Great choices!
Matt and Angela fully enjoyed their pre-sunset wedding on beautiful Aloha Beach. They loved the Aloha Beach cove, the lava rocks protruding so dramatically through the crashing waves, and most of all each other. Laughter and kisses were plentiful in this lovebird wedding. They enjoyed frolicking in the surf and climbing on the rocks. I have never seen a couple enjoy their Maui beach wedding, more than Matt and Angela.
Photography by Cathy Simone, Maui Imprints Photography.